Privacy Policy and Cookies_
Data Protection General Information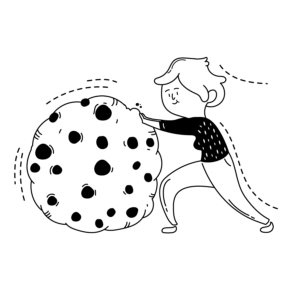 Owner: Reinicia. Agencia de Marketing, S.L.
Objective: To inform you of products/services published on our website.
Legitimacy: Legitimate upon agreement of the interested party.
Recipient: Your information won't be given to third parties except under legal obligation.
Rights: You have the right to access, rectify and remove your data, as well as other rights, which are explained in the detailed information section below.
Location: You can find additional and more detailed information about our Data Protection Policy in our TERMS AND
CONDITIONS, also located on this Website.
Detailed Information
Pursuant to the Data Protection Regulation 2016/679 EU, Reinicia. Agencia de Marketing, S.L. (hereon referred to as
Reinicia) would like to let its users know:
I- That to use or access any of Reinicia's content, as well as filling out any Website forms, means that Reinicia can request the provision of certain personal data.
II- Data that users hand over as a consequence of entering and using the contact forms and subscribe forms – which can be accessed via the main URL www.agenciareinicia.com or via phoning the number found on the website – will be treated automatically and incorporated into the corresponding register, owned by Reinicia. Agencia de Marketing, S.L. (THE OWNER) located at 15 Juan de Mariana Street, Madrid (Spain) 28045.
III- By handing over this data, the User consents and expressly authorizes Reinicia to collect and treat the personal data that has been requested for its stated purposes and understands the conditions of such. The data will be treated confidentially and will be used to:
Aid the normal development and function of the Website www.agenciareinicia.com, including to help users
who want to participate in the Website do so.
Offer, manage and improve the services and products offered on this Website.
Help collect statistics and send promotional material – including electronically – related to services and
products amongst the activities that Reinicia offers, sent directly by Reinicia, or by any other company or
organization directly related to Reinicia or by a company or organization hired for that purpose.
Indicated consent forms the basis of legitimacy for the treatment of your data.
IV- Reinicia will treat the cited personal data conforming to this policy and under the correct legal conditions set out in the law.
V- Data storing. Unless otherwise requested by the party in question, personal data will be stored throughout the continuation of the business relationship, or for one year after the most recent confirmation of interest.
VI- Automated decisions, profiles and applied logic: the company will not make automated decisions.
VII- In any case, users are free to choose if they want to hand over this information electronically, and when the chosen service might require it.
VIII- Recipients. During treatment time, Reinicia won't cease activity, unless legally obliged or in order to comply with a contract or service offering that might be established with the user.
IX- Security measures. Reinicia has installed the necessary and legally required technical procedures on this website that meet the typical quality standards of the industry. As such, Reinicia can guarantee, as far as possible, the confidentiality of our communications.
Notwithstanding the above, the user recognizes and accepts that surfing the website can never be completely secure, that communications sent electronically can be intercepted by unauthorized people or entities, and that technical safety measures are not impassable.
X- Rights. The user can exercise their rights to access, rectify, remove, limit treatment, oppose and withdraw consent
as well as portability in certain digital services. As such, the information provided here is revocable. You can exercise your rights electronically via email to info@agenciareinicia.com or in writing to Agencia Reinicia's address, including, in both cases, the reference "personal data" and the exact right which you are claiming. You are also able to use forms specifically for that. As this deals with exercising personal rights, it's important that you submit your request alongside identification (identity card, tax number, or passport). The user can also contact the controlling Authority with regards to Data Protection in order to get additional information or make a claim.
Regulación del Uso de las cookies en nuestra Web
Regulating the use of cookies on our Website To take Reinicia to where you are, we use cookies on this page and on other pages. Cookies help to personalize our website content and measure its performance and offer you a better, faster, and safer experience. By navigating our website, you are agreeing to our cookie policy.
Accessing our site can lead to the use of cookies. Cookies are small amounts of information that are stored in each user's browser so that the server can remember certain information that it will be able to use later. Sometimes, this information means you can be anonymously identified as a user. Those users who don't wish to receive cookies or want to be informed before cookies are stored in their computers, can configure their browser without the general navigation of this website being affected.
Additionally, this website can house elements in the source code of pages, which are used to measure user traffic and see the visiting patterns of users. This anonymous information might be shared with client companies, suppliers, sponsors and advertisers.
More information:
Currently, we use Google Analytics to measure site traffic which can capture the data described previously. Google will store data collected by cookies in servers located in the United States and commits to not sharing said data with third parties, unless legally obliged or unless it's necessary for the system to function. Google doesn't associate it's IP address with any other information it has.
Origin or Cookie
Provider
Cookie
Subject
to
regulatio
ns

Objective and
Description
Duration
Google Inc.
Analytics Service
A. __utma
B. __utmb
C. __utmc
D. __utmz
Yes
Its objective is to analyze
website traffic and website
navigation
A. 2 years
B. 30 minutes
C. Upon closing the browser
or when the use doesn't
change the page for over 30
minutes.
D. 6 months
Google Inc. adheres to the EU-U.S. Privacy Shield Framework. This agreement ensures that any data transfer will be treated with a level of protection that is in accordance with European Law.
You can access more information on cookies used by Google Analytics here:
Google Analytics cookie concepts
Google had developed a plug in that you can install in your browser if you don't want to be tracked by your cookies:

Reinicia. Agencia de Marketing, S.L.
All rights reserved
V. 1.1. December 2014